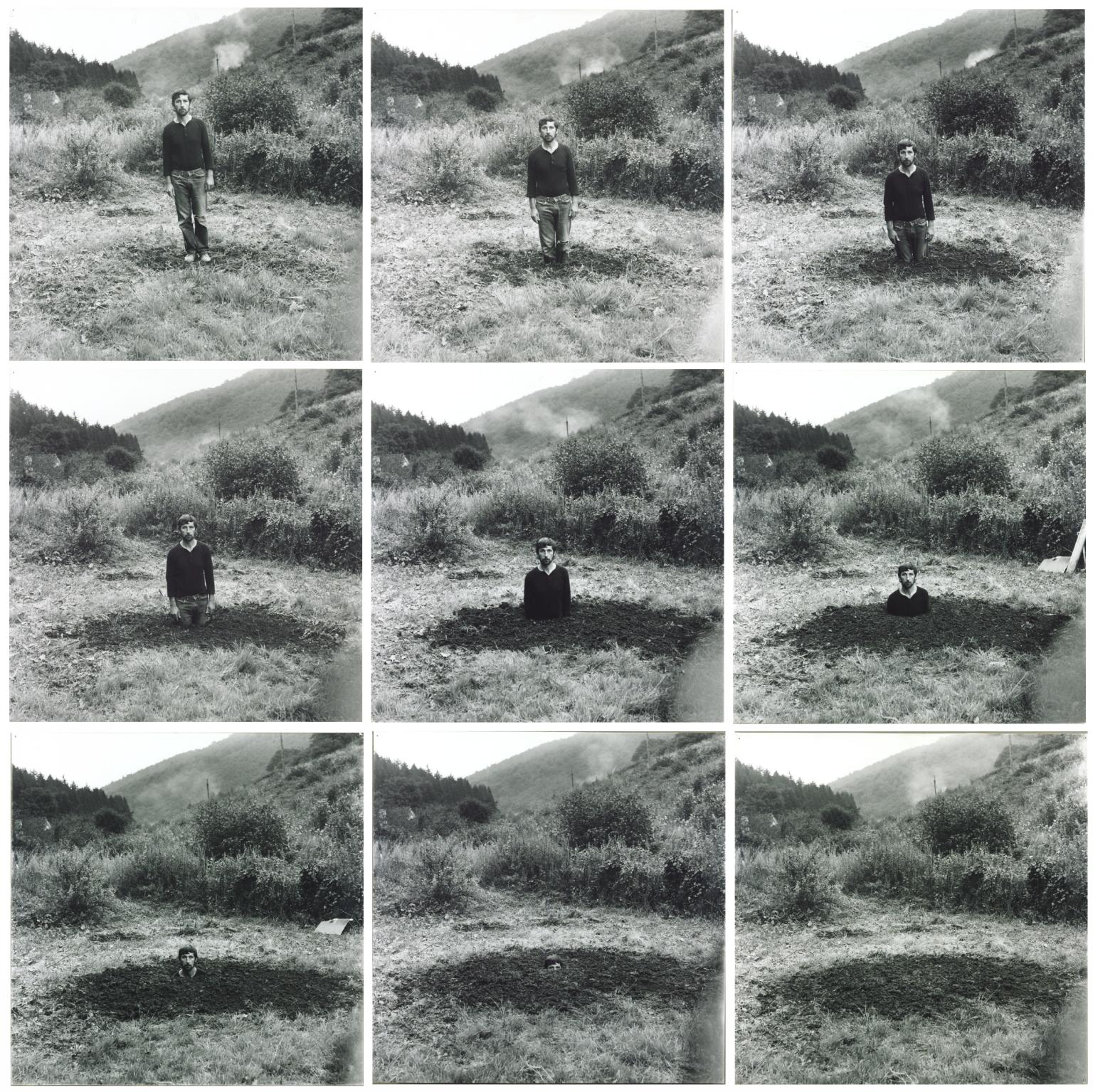 Keith Arnatt was born in 1930 in Oxford. He left school early and worked for a period in the drawing office of the Morris car works in Cowley, Oxford. He did National Service in the RAF in Malta. He went to art school in Oxford where he met his wife, Jo. He also attended philosophy lectures being particularly interested in the moral and ordinary language philosophy then current at Oxford. He recounted meeting Michael Dummett (who wrote importantly on the philosophy of mathematics and verificationism, Frege, the Tarot, and style issues in English grammar) who was entirely dismissive of any significant thought about art in connection with philosophy. He later studied at the Royal Academy.
Arnatt taught art in the sixties and seventies at Liverpool School of Art and then Manchester School of Art. At Manchester he lived on the Yorkshire moors working from a studio in his barn. He moved with his family to Monmouthshire in 1969 and taught until his retirement at Newport College of Art, starting just before the appointment of the radical head of department Roy Ascott.
Like other conceptual artists, Arnatt's early work was prominently featured in significant shows in the United States and Europe, although he had important early exhibitions in London at the Tate, Hayward Gallery, and Whitechapel Art Gallery. Early series, The Visitors and Walking the Dog, were shown in London by Anthony d'Offay Gallery and by the eighties a number of British institutions held works by Arnatt. In the eighties his work was consequential to the then fashionable revisionary interest in photography; he had a first and significant retrospective exhibition at the Photographers' Gallery in 1989.
The new found broad interest in photography in the nineties was irrelevant, if not quite damaging, to Arnatt. He had consistently, in the early part of his career, confronted lazy orthodoxies surrounding a specific value of art and was accordingly dismissive of a particular or evolutionary value of a distinctly photographic project in relation to art. The very late photographic works anyway have a kind of absolute interiority and abstractness that marked a movement away from that kind of thing in his own mind. He was productive almost without break during a long career, he suffered depression though throughout his adult life and died in a nursing home in Wales in 2008 after an extended period of that illness.
Keith Arnatt Estate
139 Englefield Road, London, UK, N1 3LH
T: +44 (0)20 7359 1474
General enquires:
contact@keitharnatt.com
Matthew Arnatt
matthewarnatt@keitharnatt.com
Maggie Smith
maggiesmith@keitharnatt.com
Keith Arnatt is represented by Sprüth Magers.
The Keith Arnatt catalogue raisonné is in preparation.